Regasification - 12 December 2018
Polskie LNG has announced record-breaking results for 2018, establishing itself as a key player on the European stage.
Singapore LNG is seeking expressions of interest from interested parties for the use of a potential new LNG storage tank.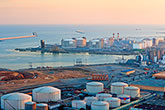 The 'global large scale LNG terminals market 2018 – 2022' report has been added to ResearchAndMarkets.com's offering.