Regasification - 08 June 2017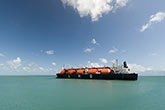 PGNiG has announced that it has received its first American LNG cargo.
The Philippines aims to build a US$2 billion receiving and distribution facility for imported LNG.
Royal Dutch Shell has sent a replacement cargo of LNG from the US to Dubai after a diplomatic row disrupted typical trade routes from Qatar.