LNG - 29 April 2020
Tellurian has executed agreements for US$50 million of financing and a reduction of its term loan.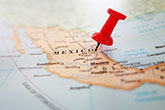 CFE, Mexico's state power utility, is currently seeking to purchase an LNG cargo for delivery to a terminal on the country's west coast in May.
Polish Oil and Gas Co. has announced that it has received a US LNG cargo from Cheniere, continuing the cooperation between the two companies to provide secure supplies of natural gas to Poland.