LNG - 23 October 2020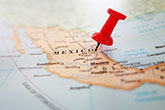 US natural gas exports to Mexico have increased in the first nine months of 2020, according to the US EIA.
HAM Chile has been chosen by Lipigas for the design, construction, and commissioning of Chile's first LNG fuel station.
The last LNG carrier of four built in China for the Yamal LNG project.