LNG - 17 August 2020
Plaquemines Port has announced the signing of an LOI for the development of an LNG/electric-powered container terminal in Plaquemines Parish.
Reuters is reporting that the latest market estimates have placed Asian LNG spot cargo prices at a more than six-month high.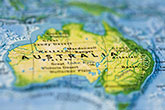 The North West Shelf Project participants have agreed non-binding key principles for processing third-party gas through its facilities.