LNG - 17 March 2020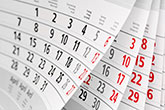 Posidonia, the international shipping exhibition, has been re-scheduled to October 2020 due to the COVID-19 coronavirus pandemic.
Pao Novatek has announced that the company has reached a milestone of 1 trillion m3 in cumulative natural gas production since commencing its natural gas field development program.
KN's operation and maintenance services agreement for its LNG terminal in Brazil has come into effect.