LNG - 13 April 2021
The two companies have signed an agreement to research solutions for the reduction of CO2 emissions.
KN has announced a market consultation regarding the purchase of an FSRU for the Klaipeda LNG terminal.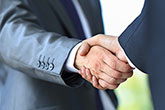 By joining the SEA-LNG, Puget LNG strengthens the coalition's membership base on the North American west coast.