LNG - 02 June 2021
The FSRU Exemplar has returned to Bahia Blanca, Argentina, to deliver LNG for the 2021 winter season.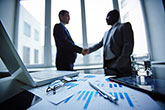 Stabilis has completed the acquisition of an LNG production facility from HR Nu Blu Energy, LLC.
Global energy investments set to recover in 2021 but remain far from a net zero pathway, reports the International Energy Agency.