LNG - 01 June 2022
The paper contains the latest generation of dual-fuel engine technologies, including dual-fuel LNG engines.
The new LNG import terminal, named Golar Tundra, will help safeguard Italy's energy security and diversification.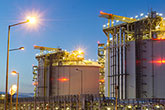 During the period from 1 October to 31 December 2022, five customers will use the booked 9.66 TWh of LNG terminal degassing capacity.