Liquefaction - 31 March 2020
In response to recent market conditions and global events, Woodside has released a statement outlining actions that it is taking.
Energy Transfer has released a statement commenting on Shell's decision not to proceed with an equity investment in the Lake Charles LNG project due to current market conditions.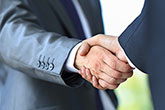 Shell has announced that, given the current market conditions, it has decided not to proceed with an equity interest in the proposed Lake Charles LNG project.