Liquefaction - 24 April 2018
Over US$142 billion will be spent on 97 upcoming oil and gas fields between 2018 and 2025.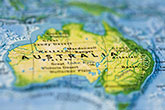 Shell and Inpex are on the final stretch of a years-long race to export gas from offshore northern Australia.
Petronas has delivered its first LNG cargo to South Korea's refiner S-Oil Corp on 22 April.