Liquefaction - 21 August 2019
Chart Industries, Inc. receives full notice to proceed with its contribution to Venture Global's Calcasieu Pass LNG export terminal project.
Okra Energy USA has been awarded an exclusivity contract for LNG development in Latin America.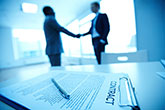 Baker Hughes, a GE company has announced that it has won a contract and been granted notice to proceed on the construction of its comprehensive LNG technology solution for Venture Global LNG's Calcasieu Pass project.