Liquefaction - 21 February 2018
Egypt faces a possible over-abundance of natural gas after two Israeli companies proposed a US$15 billion supply deal.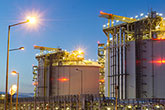 Energy World Corp expects to start up a gas-fired power plant in the Philippines by end-2018, fed by the country's first LNG imports.
Santos Ltd reported a more-than-fivefold rise in annual underlying profit on 21 February.