Liquefaction - 14 October 2019
The US will contribute nearly three quarters of global LNG liquefaction capacity growth by 2023, says GlobalData.
Nigeria National Petroleum Corp. has signed a multi-billion pre-payment agreement with Nigeria LNG.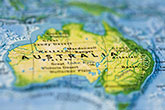 ConocoPhillips has announced that it has agreed to sell the subsidiaries that hold its Australia-West assets and operations to Santos for $1.39 billion, plus customary closing adjustments.