Liquefaction - 13 March 2018
Golar LNG said on 12 March that it had started production at its FLNG platform in Cameroon.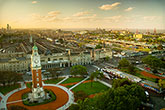 Argentina's state-run Enarsa awarded part of its 22-cargo LNG purchase tender for May – August delivery to Trafigura, Gunvor, BP, and Vitol.
Mitsubishi's H-100 Gas Turbine and Low NOx Combustion System has been awarded full mechanical drive qualification by Shell.