Liquefaction - 05 October 2017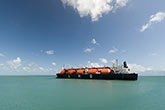 BP is taking delivery of six LNG tankers to support its expanding global LNG portfolio.
Saudi Aramco's CEO has announced that the company is discussing several investment opportunities with Russian companies.
Company announced that it was looking to sell its Deep Basin oil and gas asset in the Canadian province of Alberta.