Liquefaction - 02 May 2017
The Bowen project was originally going to supply an LNG export project.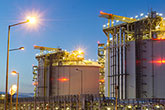 The LNG Production Platform development has spanned several years, requiring an investment of over US$30 million.
Ophir has signed a detailed umbrella agreement with OneLNG SA and GEPetrol, establishing the full legal and fiscal framework for the Fortuna FLNG project.