Liquefaction - 01 February 2018
Yamal LNG reached a major milestone with the December announcement of the first cargo of LNG ready to leave Sabetta.
Croatia will pass a special law to speed up the construction of a LNG terminal in the northern Adriatic.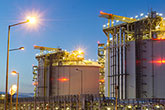 All major equipment has been operated and is being commissioned as expected.