Metrology for LNG workshop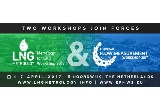 04 April 2017 - 05 April 2017
---
The 2nd edition of the Metrology for LNG workshop and the 5th edition European Flow Measurement Workshop will be held adjacent to each other from 4 - 7 April 2017, with one day of overlap. During three and a half days experts from both fields will discuss new developments in a joint programme 'Setting the Standard'.
A visit to a brand new midscale LNG calibration facility in the harbour of Rotterdam, will be part of the programme. At the workshop Metrology for LNG you will:
Be updated on the newest developments in LNG measurement.
Learn about practical challenges and solutions related to measuring LNG in the field.
See the most recent results of LNG calibration and validation research.
Meet and discuss with stakeholders from all angles in LNG technology.
Get the opportunity to visit the new midscale LNG calibration facility.