Baltic LNG & Gas Forum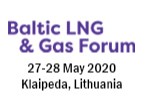 27 May 2020 - 28 May 2020
---
Capitalise on LNG and gas uptake in the Baltics.
The two-day forum will delve into the major challenges and opportunities for LNG and gas industries across the Baltic region. Bringing together gas and LNG suppliers and buyers, utilities and TSOs, regulators, ports and terminals as well as a diverse mix of trading experts, technology providers, analysts and consultants.
Key agenda topics include:
Ensuring energy security.
Analysing the supply and demand of LNG and gas.
Regulatory and policy perspectives.
LNG use in maritime and road transportation.
Market development and analysis.
Financial prospects and infrastructure.
20% discount details:
Link: https://bit.ly/2UVOERP
Code: FKA2766LI